Jan 10
Hey Guys and Dolls!
I am not too sure what your feelings are towards the weather but to be honest I am a bit sick with the snow! As I look out the kitchen window… it's neither 'blowing a hooligan' with so much snow I would bury us all in our homes for at least a week… nor is it showing signs of fully melting so at least I can make an attempt at starting my fitness regime. It is a half snow/half ice mess which looks to be hanging around for another week…. While I gently step off my Soap Box I thought I would post a new article as two particular 'kidd81.com' alerts caught my eye!
While I do follow up all my Google Alerts… ( it's truly amazing to see where my site pops up from Twitter to Facebook and CSS galleries and as far and wide as New Zealand and USA.) I was proud to be featured in Smashing magazines '69 Sexy Portfolio Designs To Inspire You' For anyone who is a web geek like me being referenced by these guys is a real mean feat! And thank you!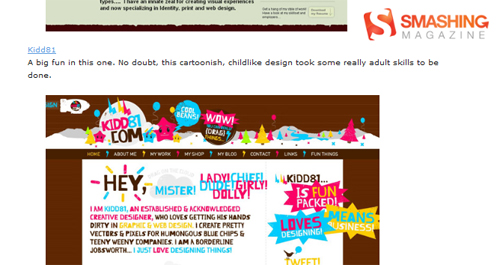 Another alert which come through the other day was from Brainstorming Magazines '33 Sexy Portfolio Designs To Inspire You' This online 'page turner gaget' magazine is a real must read for anyone in the industry. It has interviews with top designers and pulls together a wide range of creative work to inspire others.. and it's ALL FREE! Again, it's a real honour to be ranked along designers of this calibre! So thank you too!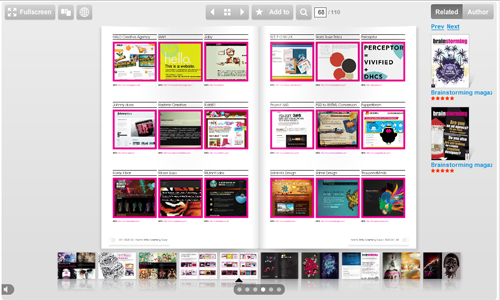 If you didn't know by now… kidd81.com does regard his style as fun-packed… I am not 100% sure on the 'sexiness' of my site… but if both Smashing Magazine and Brainstorming magazine are saying so… who am I to argue with?….
More fun-packed stuff coming up soon!! Yeeee-ha!
Bye for now!
Mr P